Hair Bender
by
Stumptown
US based roaster located in Portland, Oregon.
Read more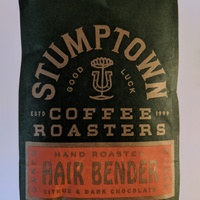 Roast Details
---
Best For:
Espresso
Roast:
Country: Country: Country:
Tasting Notes:
dark chocolate, citrus
---
Hair Bender Reviews
Lovely Stuff
---
This is the blend Stumptown serve in their shops for espressos. I really like it and bought a bag pack with me on my last trip to New York.
Simon - 13 February 2018


Add Your Review
We currently have 5 other roasts from Stumptown listed on the site.