Telia
by
Square Mile
Multi-award winning coffee roaster based in East London. Their Red Brick Espresso is widely used across many of London's coffee shops.
Read more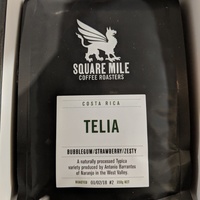 Roast Details
---
Best For:
Espresso
Roast:
Country: Country: Country: Costa Rica
Tasting Notes:
strawberry, bubblegum, hops
---
Telia Reviews
No one has added a review of Telia yet, why not be the first?
Add Your Review
We currently have 7 other roasts from Square Mile listed on the site.