Allpress - Redchurch Espresso Bar
Updated - 11 May 2017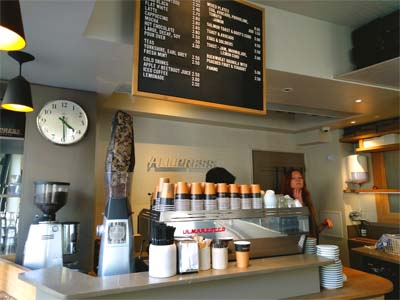 Coffee roaster that has opened their own shop to serve their beans.
So this was bit of a connected journey arriving at Allpress in Shoreditch. I initially came across the name Allpress as they are the beans served by Mae + Harvey, and you'll see I've also written about them under the Roasters section. So whilst browsing their site I noticed they had a shop down the road and today I paid them a visit. This location is the original site where they produced their roasts before moving to larger premises in Dalston, but to be honest, I wasn't immediately taken with the place. It feels quite cold and a far more like kitchen showroom than a coffee shop. If I'm true to my own rules for adding individual coffee shops to the site, then Allpress probably wouldn't make it as it's not somewhere I think I would come back to. It only makes it due to the quality of their beans. It's definitely somewhere I would come for a take-away opposed to sit in.
Not surprisingly you can also buy fresh beans here which they will grind up for you if you wish.
I will also add that when I asked for a long black to have in, it was given to me in a take-away paper cup. I asked if I could have it in a proper cup and to be fair to the barista he made me a completely fresh coffee which he needn't have, but he did say that they serve long blacks in take-away cups by default. I'm not sure of the logic in that and it seems odd for a business who roasts their own beans not to serve it in the best way.
Their location on Redchurch Street in Shoreditch is very well placed, but there is stiff competition around there, and I much prefer Paper & Cup if I'm in the area.
- Price of a Long Black - £2.7
- Allpress
- 58 Redchurch Street, Shoreditch, London,
-
- https://uk.allpressespresso.com/discover/redchurch-espresso-bar
No one has added Allpress - Redchurch Espresso Bar to their favorites yet.
Sign up or Log in to add Allpress - Redchurch Espresso Bar to your favourites.
Comments
No one has commented yet. Why not be the first?
Add a Comment
Near by Coffee Shops
These are other coffee shops in Shoreditch